Discover the top 10 most popular cities among Opodo customers
Need an escape? Customers are always right: let them advise you on your next travel destination! Opodo won't let you go unprepared though: we can fly you anywhere you want in Europe but not before giving you some tips and useful information to better prepare your stay. Learn everything there is to know about the local food, monuments, weather and customs, so enjoy your trip!
Tasty food
 
If there is one typical English meal, it's obviously breakfast! With eggs, sausages, baked beans and potatoes, of course. Oh, and don't forget to try their emblematic fish and chips as well!
Worth visiting
 
Madame Tussauds Wax Museum allows you to meet all of Britain's great figures from history, cinema and literature. You'll find representations of both long gone celebrities, as well as some very much alive ones like Prince Harry and his wife, Meghan Markle. Selfies are almost mandatory, so have your smartphone ready for action!
Fun things to do
 
Visit Camden Town and its multicultural neighborhood. With shops, restaurants, markets and art exhibits along the canal, it is a unique London experience!
The London Eye will amaze you thanks to its 32 different passenger capsules, which stand for London's 32 boroughs. Don't try to get up on the 13th though, as it doesn't exist to avoid bad luck!
The best time to go to London
From June to August if you want to experience the best weather conditions; from September to November if you want to enjoy Halloween and the Thames Festival; or from December to February if you want to see the Christmas lights, fireworks on New Year's Eve and the Chinese New Year celebrations.
Did you know that...?
 
In English bars and restaurants, service fees are not necessarily included in your bill, which can be confusing for tourists. Tips are part of waiters' wages so it is customary to give a 10 to 15% tip from the bill's amount.
London cab drivers have to know the city streets by heart and are not supposed to use GPS. Also, take notice of the cab from the outside: it has a turning angle of almost 180°, which enables it to turn almost on the spot.
Tasty food
 
Order a coddle, which means Dublin's cooking pot in Gaelic. It is the city's typical dish and is made up of bacon, sausages, onions, and potatoes in a chicken broth. You can also try the Irish stew, with long-cooked and low heated lamb, potatoes and carrots.
Worth visiting
 
Trinity College is the oldest university in Ireland: it was founded in 1592 by Queen Elizabeth I. You can stroll freely in the park and then explore the library looking for old manuscripts and the Book of Kells.
Dublin Castle is another astonishing building: erected in the 13th century on the site of a Viking settlement; it also encloses the gothic Chapel Royal designed by Francis Johnston, a Medieval Tower, also known as the Wardrobe Tower, and a museum with important collections and exhibitions.
Fun things to do
 
Go shopping in St Stephen's Green famous center with its many windows, embellishments and majestic metal arches. Afterwards, you can take a nap or just relax in St Stephen's Green 22-acre park.
The best time to go to Dublin
From May to October, but watch out for the rain that comes unannounced, even during summer! In fact, June, July and August are some of the rainiest months.
Did you know that...?
 
Saint Patrick wasn't truly Irish but Welsh!
Dublin was originally called Dubh Linn which means black pool, referring to a dark water lake in the heart of the city. It's now part of the penguins' enclosure inside the Dublin Zoo.
Irish people are the second largest beer consumers in the world (next to the Czech Republic), with an average of 352 pints a year per inhabitant (those who are old enough to drink of course!).
Tasty food
 
Bitterballen are fried meatballs served with mustard. They are the typical Dutch snack, often served in bars to accompany a drink. For dessert, have some stroopwafels: fine waffles stacked together with a layer of sweet syrup.
Worth visiting
 
You can visit Anne Frank's home in Amsterdam, and especially the hiding place in which she wrote her famous diary. It is the most visited museum in the city.
If you want to discover Dutch history and craft, the Rijksmuseum Amsterdam is the place to go. It contains more than a million items and works of art, ranging from famous Dutch paintings from Rembrandt and Johannes Vermeer, to Asian artworks and sculptures from all over the world.
Fun things to do
 
Cycling along the port of Amsterdam, from Westerpark and the old gas factory transformed into a cultural center, to the public library and its amazing rooftop view, and then the little brewery installed under a mill.
The best time to go to Amsterdam
In June or July if you want hot weather; or from April to June and September to October if you wish to avoid tourists and still get to enjoy good weather.
Did you know that...?
 
Many old houses in Amsterdam are leaning forward. They were built that way willingly to ease the carriage of goods to the attics without damaging windows. In addition to that, most of them are built on stilts on damp and unstable ground, so they have sunk throughout the years.
Tasty food
 
If you are fond of French cheese, you should taste those made in the Ile-de-France region, like Brie de Meaux, Coulommiers or the famous Camembert! Paris is also known worldwide for its pastries: macaroons of various flavors, opera cake, croissants…the delicious list goes on!
Worth visiting
 
The Louvre Museum is the largest museum for art and antiquities in the world. It is also logically the most visited! You could spend two full days inside its walls and still not have seen all its collections.
If you've never been to Paris, there is one thing you can't miss: climbing the stairs to the top of the Eiffel Tower and admiring the view from above. Still today, the Eiffel Tower is an emitting antenna for radio and television programs.
Fun things to do
 
Go up the Avenue des Champs-Elysées, named after the mythological place where souls of virtuous men stayed after their death. It is said to be the most beautiful avenue on Earth.
Then, take a boat ride on the Seine, on board the famous "bateaux mouches". The experience is especially enchanting at night!
The best time to go to Paris
From May to October, particularly in August when Paris inhabitants leave the capital to go on holidays. Spending Christmas in Paris is also a wonderful idea because the city is illuminated with lights and sometimes even covered in snow.
Did you know that...?
 
There is no need to go far from Paris to find the first French vineyards and taste local wine. North of Montmartre, one of Paris' most famous neighbourhoods, you can find 2,000 vines. The harvest is rather thin but makes a vintage called Le Clos de Montmartre, celebrated with a festival each year at the beginning of Autumn.
Tasty food
 
As a starter or appetizer, Pa amb tomaquet will seduce you: a slice of fine bread brushed with tomato, extra virgin olive oil and salt. You can taste it with Fuet, which is a Catalan sausage. As a dessert, we recommend the Crema Catalana, made of egg yolk and caramelized sugar. What a delight!
Worth visiting
 
Barcelona is the city where Catalan modernism is best represented. You can go on a tour of Antoni Gaudi's famous works which are now UNESCO World Heritage Sites: La Sagrada Familia Basilica, where you can try for hours on end to understand the architect's symbology; and Park Guell, where you can take a poetic walk among the organic shapes and structures.
Fun things to do
 
Grocery shopping at Mercat La Boqueria, one of the world's most famous food markets, shop for olives, seafood, fruits, cheeses, meats and dried hams… You can also have lunch there or enjoy a freshly squeezed fruit juice; there are so many flavors to choose from!
The best time to go to Barcelona
Summertime to enjoy the beach and party all night long; Autumn to experience fine weather, you can still swim in the sea and encounter fewer tourists; and Springtime to party in any of the many music festivals, share the Holy Week and get discount prices.
Did you know that...?
 
Antoni Gaudi is often recognised for his masterpieces such as La Sagrada Familia and Park Guell, but he has also left other tracks around the city streets. For example, he designed the six-branch floor lamps that still light up Plaça Reial.
Plaça Reial is amazingly symmetrical. The architect made this impressive symmetry possible by creating a visual effect: the place isn't actually rectangular but rather has the shape of a trapezium. Furthermore, the columns are not set at equal distances from one another, which reinforces the overall symmetrical effect.
Tasty food
 
Bacalhau com Natas is the best way to make everyone like codfish! Served in a gratin with milk cream ("nata"), it also includes onions and potatoes. You can also try Lisbon's typical and most original dish: Bife a Café. It's actually a steak covered with a pepper and coffee sauce served with fries.
Worth visiting
 
Discover the works of several centuries of ceramic mosaic art at the National Museum of Azulejo, which covers the Renaissance period up to the 19th-century, including an 82- feet-long fresco representing Lisbon before the earthquake of 1755.
If you enter the city by sea, do pay attention to the Tower of Belém. This African style citadel was built from 1515 to 1521 to house the port's captains and defend the city and the mouth of the Tagus river.
Fun things to do
 
Climb to the top of Saint George's Castle for a breathtaking view of the old town and its pastel colors, as well as the suspension bridge.
The best time to go to Barcelona
From March to November, as the weather is quite nice during most of the year. However, Spring and Autumn are particularly the best seasons to go: it doesn't rain much and the city is not yet crowded with tourists. From June to August, people are rolling in and the temperatures usually rise to up to 30°C (86°F), so prices go up as well. If you're a sports fan, book a trip in April to experience the Open Estoril tennis tournament.
Did you know that...?
 
It is believed that the center of Lisbon was built according to the principles of Freemasonry by the Prime Minister after the earthquake of 1755: there are seven streets straight and wide, named after precious elements (gold, silver...), 3 squares, a triumphal arch and 2 pillars near the river.
Lisbon was a real nest of spies during the World War II. Portugal was neutral so other countries sent their agents to keep a close eye on their enemies. Even Ian Fleming, James Bond's author, spent time in Lisbon at the time, working for the British Naval Intelligence.
Tasty food
 
Rolled eel would be Denmark's ancient version of fish and chips, in a more "Nordic" way. The eel is stuffed with onions and boiled before being sliced and served with potatoes. You can also have it on smorrebrod: a slice of fine bread. If you want to try a typical Danish dessert, kransekage would be the one: rings of shortbread and marzipan, assembled into a mounted piece. Delicious!
Worth visiting
 
The Little Mermaid statue represents the tragic heroine of the famous fairy tale by Danish author Hans Christian Andersen. It was sculpted by Edvard Eriksen in 1913 and has become a Danish icon ever since. You can admire it by walking on the waterside of the Langelinie promenade.
Fun things to do
 
Walking the Nyhavn waterfront to take pictures of the colorful 17th and 18th-century townhouses and the old wooden ships anchored along the wharf of the canal. You can stop by one of the many bars and restaurants on the ground floors of the houses that line the canal.
The best time to go to Copenhagen
From June to September if you want to experience nice temperatures. But watch out for rain, and never leave without an umbrella! As one of the Nordic countries, Denmark and the city of Copenhagen are also nice to visit in winter. Just make sure you don't forget your warmest sweaters!
Did you know that...?
 
Danes have been consecrated by several studies as the happiest people in Europe and the world. Could there be a connection with the fact that Lego toys are Danish?
Denmark is also considered as the most democratic and less corrupt country in the world, with real freedom of the press and the lowest ranking wage inequality worldwide.
Tasty food
 
Chiftele are large spicy meatballs made of pork with garlic and herbs, served with fries. You can try out other variations made of beef or chicken. Cozonac is a type of sweet bread, flavoured with vanilla or rum, sometimes grated with lemon or orange peel, raisins, cocoa or nuts.
Worth visiting
 
The huge government building housing the Parliament, which was built during the communist period by Ceausescu's orders. He wanted it to be his "People's house" and the second greatest building in the world next to the Pentagon. This construction does not have a coherent architectural style and is quite enormous, with its 1,100 rooms! Furthermore, they had to destroy 9,000 pre-existing buildings to erect it. Even today, Romanians do not know what to think about it. So don't miss the occasion to make your own opinion!
Fun things to do
 
Spend a night out in the historical center of Lipscani, often called the little Paris because of its narrow pedestrian streets full of life, and its many nice monuments, bars, bookshops and art galleries.
The best time to go to Bucharest
From April to October. August and September are particularly the ideal months to visit because of the warm temperatures and little rain.
Did you know that...?
 
Bucharest is the least expensive of all European capitals! You can enjoy shopping and cheap meals.
Michael Jackson visited the Parliament building and saluted from the balcony the people of... Budapest. Oops!
North of the city, you can visit the Romanian Peasant Museum. This museum has changed a lot through its history: it was first dedicated to art, then transformed into the Museum of the Romanian Communist Party, and ultimately dedicated to Romanian crafts, architecture and folklore.
Tasty food
 
Hot dogs and cheesecakes, without a doubt! But these are only two examples of the typical New York gastronomy, which also includes corned-beef, bagels, ribs, chicken wings, onion rings, cupcakes, carrot cake, pumpkin pie… you get the drift. Food is one of the best memories you can bring back from a trip to New York city!
Worth visiting
 
Every visitor feels the need to go to the Ground Zero Memorial and honor the 9/11 victims. Two pools are now standing in place of the Twin Towers and create impressive waterfalls. From there, you can go up to the top of the new skyscraper called One World Trade Center and enjoy the highest 360-degree view of the entire City.
Fun things to do
 
Shopping in Chelsea Market, a former biscuit factory and one of the largest and busiest markets in the world. Enjoy a meal in this special atmosphere, and walk through the stalls of the Manhattan Fruit Market: chances are you will discover fruits, nuts and vegetables you've never seen nor tasted before!
The best time to go to New York
From May to October, but the Summer can be quite uncomfortable as it can be really hot due to the level of urbanization and large population. Also take into account that it rains quite often in New York, especially during Spring and Autumn.
Did you know that...?
 
New York City is a truly cosmopolitan city: more than 47% of New York inhabitants speak another language other than English when they're home with their families.
Another fascinating thing to consider: when walking in front of the Federal Reserve Bank, you might be literally standing on a pile of gold, as it houses 25% of the global gold reserves stored in safes 82 feet into the ground.
Tasty food
 
Dolma is a typical Turkish dish that consists of vegetables stuffed with cheese, meat or even other vegetables. If you'd rather taste something sweet, lokums are famous desserts made of water, sugar, starch and fruit essence, sometimes they also have nuts.
Worth visiting
 
Hagia Sophia, the great Christian basilica that was transformed into a mosque in the 15th- century but is no longer a place of worship: it is now a museum. Its architecture, as well as its beautiful mosaics, make it a must-see place during your visit to Istanbul!
Topkapi Palace is the former official residence of the Ottoman Sultan, built on the site of the ancient city of Byzantium. It is listed among the UNESCO World Heritage Sites.
Fun things to do
 
Go shopping in the Grand Bazaar of Istanbul, a labyrinth of colourful covered markets with more than 4000 shops in 58 streets where you can search and bargain for jewels, carpets, fabrics, mosaics, silver...
The best time to go to Istanbul
From May to November, preferably in May and June when there aren't as many tourists; or from September to November when temperatures are still nice and enjoyable. Early April is also a great option as it's right on time to witness the blossom of tulips and celebrate them during their dedicated festival.
Did you know that...?
 
Hagia Sophia hides one of the first works of street art in history: engraved on a balustrade lies a Viking message which can be translated as "Halfdan was here in 247".
The birds found in Gulhane Park (necked parakeets with red beaks) are an Afro-Asian species. No one knows exactly how they got there, but as the story goes, they escaped a smuggling truck during a road accident.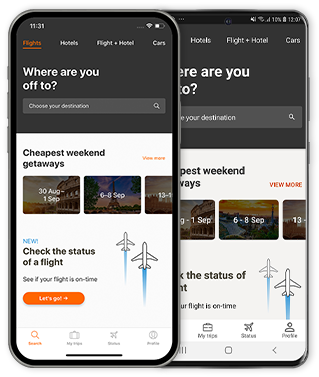 Opodo App: the best way to plan your travel!
Book your flights and hotels or rent a car thanks to the Opodo Mobile App. Free download on iPhone and Android.